January 29th, 2006
So I haven't been able to talk to Penny on our webcams because she's never home, but for now I thought I'd do some old fashioned blogging.
Since I have nothing to do on the weekends and I start to go a little crazy if I just stay home watching The Daily Show (thank you Internet!) I decided to do some sightseeing. The only place I knew in Berlin was Checkpoint Charlie.
For those of you who a) are too young to remember the Wall and b) haven't seen Ross McElwee and Marilyn Levine's movie Something to Do with the Wall then Checkpoint Charlie probably means nothing to you. Well, I was 9 when the Wall came down but I remember Peter Jennings telling me it was important.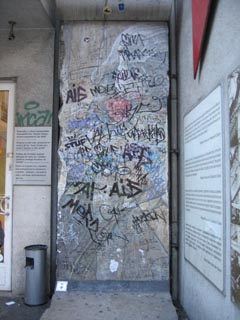 It looked like they were having a good time taking it down anyway. But I did see Something to Do with the Wall and I think I remember that Checkpoint Charlie was kind of the geographic center of the movie. Anyway, I heard that it was still there, so it seemed like something to see.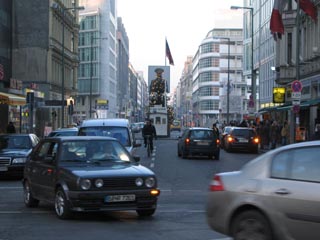 I think Checkpoint Charlie was named after an American soldier named Charlie who was killed trying to cross over from the East. There's big picture of him in a touching memorial.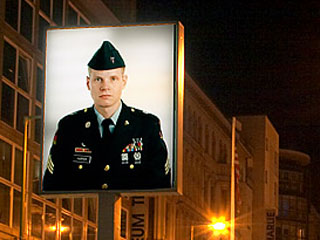 I don't know what he was doing in the East. Probably busting some Commie ass. I didn't take that picture. It's from a postcard.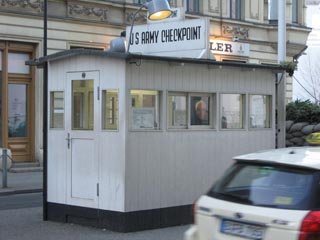 I took a picture of this thing thinking I was photographing history, but I found out later on the Internet that it was rebuilt in 2000 so they could sucker people like me into taking 2 subway trains halfway across the city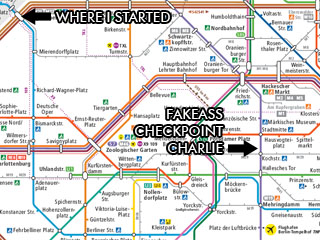 to see some fake checkpoint that doesn't even mean anything to me.
Next time I'm staying home to watch CNN International.
I liked this sign though.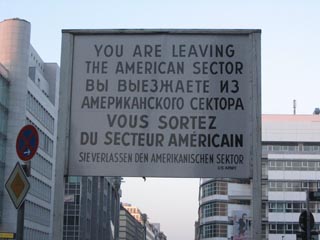 I thought I did that weeks ago.
Entry Filed under: Travelogues