I have arrived in Berlin and my computer made it out of customs. Here are a few pictures I've taken since I got here.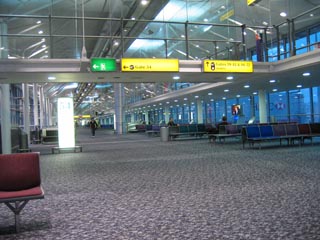 This is Heathrow Airport. I stopped here on my way to Berlin for a few hours just to see what all the fuss was about. According to BBC World News (one of two reliably English-language TV channels in Berlin, which means it's on a lot in my apartment) it's the busiest airport in the world, and they're spending eleventy billion pounds to make it even bigger. Good thing, because I could hardly get through the crowds.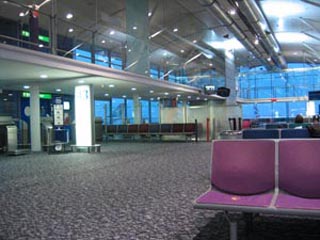 Actually, they were all at the duty free shops. Duty free actually means something in Europe. It'is like 16%. Which makes you realize how great they have it in New Hampshire. I didn't have any pounds so I couldn't take advantage of the lack of duty, although I did feel liberated just browsing.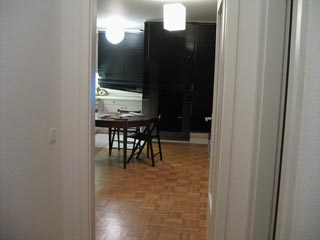 This is the entrance to my partment. The left side of my keyboard was damaged during shipping so sometimes letters don't work. That's why I spelled it "partment." Not because that's German for apartment bcause it's not (that time the e didn't work). According to my pocket dictionary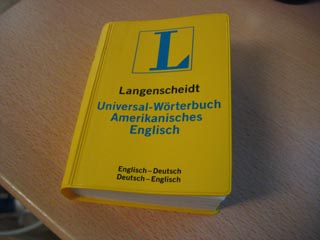 The word is Wohnung. As in mein wohnung ist schäbig.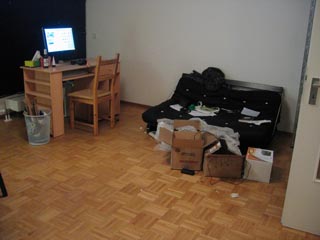 Which means my apartment is shabby.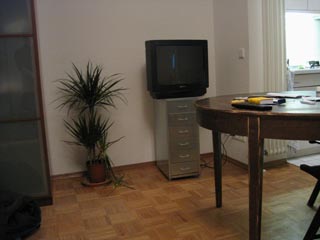 Which it is. But it's not terrible. There are things I like about it. Like the kitchen.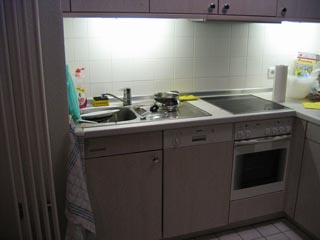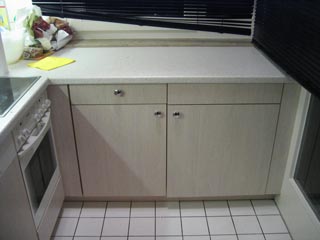 Looking at this you might ask yourself "where's the fridge?" Well check out this piece of magic: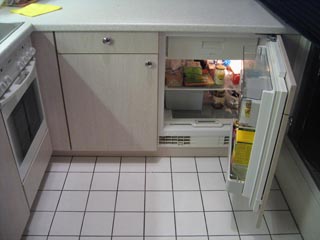 Yeah, it looks like a cabinet!!!! In the States that sort of design extravagance is reserved for the very wealthy/trendy. But Europe has been civilized much longer than the U.S. (sorry Native Americans). Watch what else looks like a cabinet: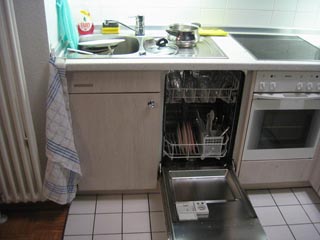 Yes, the cutest little dishwasher you ever saw. I haven't had a dishwasher for the past 7 years. I use this one every chance I get because I won't have one in New York until after I make my first million.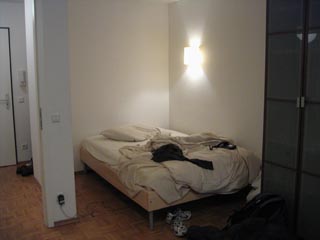 This is my bed and the towering bureau next to it.
Except for the handcrafted table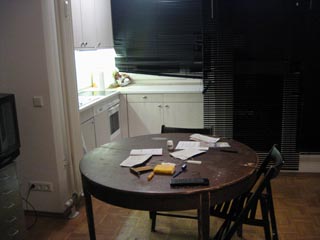 and the designer couch (see above) all the furniture is from Ikea. The bed has a habit of collapsing on one side while I'm sleeping which means I have to spend the rest of the night on the other side of the bed afraid to venture back because the whole thing could go at any minute.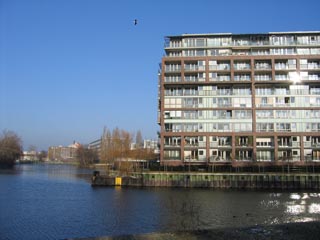 This isn't my apartment building, but mine is behind it and looks just like it. S let's pretend it is mine. You'll never know the difference. And it's something like 0 degrees Celcius outside, which makes me think it's even colder than it is. So I'm not going outside to get a real picture. That dark spot in the sky is a bird. They have those in Berlin too.
January 21st, 2006